EACHINE E55 Mini WiFi FPV Foldable Pocket Drone With High Hold Mode RC Quadcopter
5.0
(Reviews 52)
US$25.99
US$25.99
Buy at
Banggood
BUY AT AMAZON
Product Description
Reviews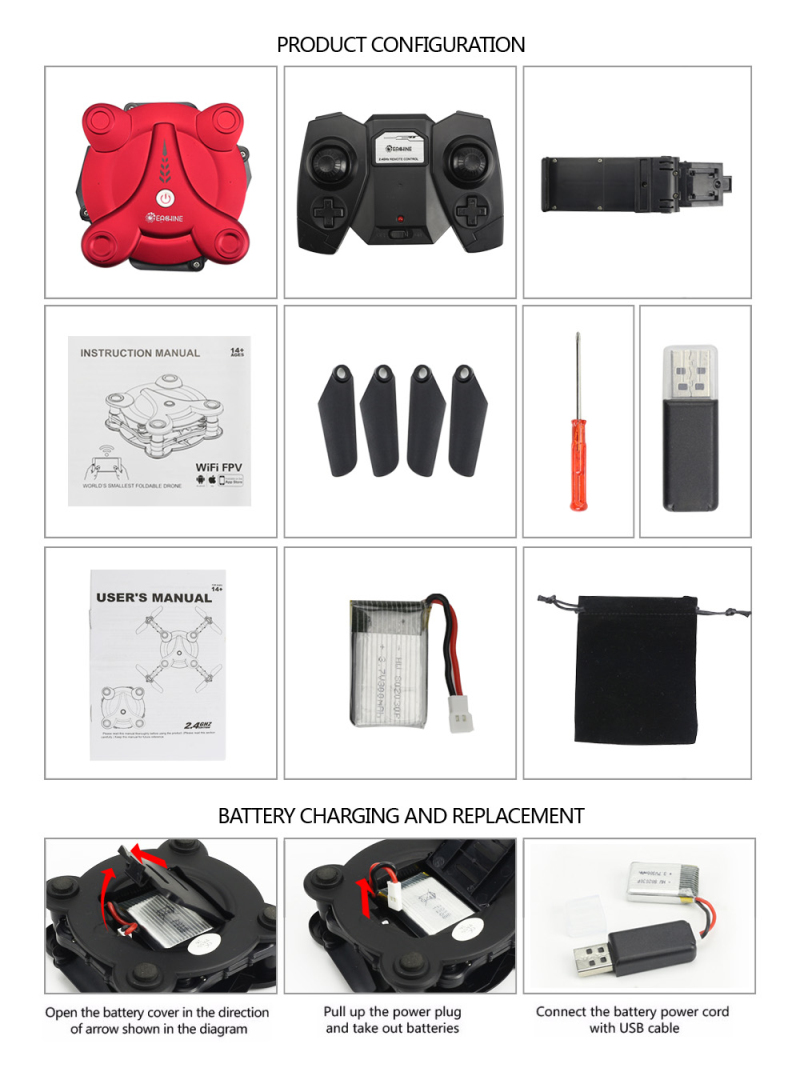 Description:
Item name: Eachine E55 RC Quadcopter
Frequency: 2.4G
Channel: 4ch
Gyro: 6 axis
Material: Alloy ABS, PEO
Product battery: 3.7V 300mAh 25c(Included)
Charging time: 40mins
Flying time: 6-8mins
R/C distance: about 50m
Camera: 30W (720*576 30FPS)
Product size: 6.5x6.5x2.5cm (the arms are folded)
Package size: 16.5x6.1x21.5cm
Product weight: 45g
Package weight:265g
Transmitter: Mode 2
Transmitter battery:3*AAA(Not included)
Color: Balck/White/ Red
Features:
* With foldable arm, small size, easy to carry
* With high hold mode function provides stable flight.
* With wifi function can be connected APP, APK system to take pictures, video, real-time transmission through the phone camera image.
* Wifi real-time transmission FPV system which can capture photos and record videos for your great memory.
* With Headless Mode,no need to adjust the position of aircraft before flying .
* It has 6-axis gyro which can have more stable flying and be easy to control.
* 4 Channel which can do ascend, descend, forward, backward, left sideward fly, right sideward fly and rolling 360°
* Remote control with anti-interference protection, the aircraft has a low-current protection over-current protection, aircraft flight flexibility and smooth; fine tuning by remote control to fine-tune the performance of the aircraft to ensure normal function
Function: Rise, Fall, Hover, Forward, Backward, Turn Left, Turn Right,,Headless Mode,Four Sides Roll Function
Package Included:
1 x Eachine E55 RC Quadcopter
1 x 3.7V 500MAH battery
1 x USB charger
4 x Propeller
1 x User manual
1 x transmitter
1 x Phone Holder
1 x screwdriver
CUSTOMER REVIEWS
Average rating:
5.0
/ 5.0
WRITE A REVIEW
5.0

By Ant Pruitt

2017-10-30

Not bad at all

Pretty compact. Flies well. Camera is ok. It's really quiet compared to others.

5.0

By elysee longin

2017-09-11

Five Stars

i love it

5.0

By Jeanne DiSanto

2017-08-19

It is a good quad-copter.

Excellent product, good quality material, it's easy to learn to use, flies very well at a height and considerably far distance without losing the signal, control is ergonomic and every button done quickly and easily the desired actions, I have used both rural and urban areas and flies just as well.  The picture is very clear and FPV function is amazing. It is a good quad-copter.

Definitely recommend it.

I've never flown one before. I got this one after much reading and searching mainly for the price and the fact that it came with a camera. Its only a 2mp camera but let me just say I've been impressed with the videos it can take.  Connecting the phone to the quad is simple using the free app. now for the quad itself. Its way more stable then i thought it would be. I flew this quad around my back yard my first flight. Its easy to fly. Take some amazing picture and video. I bought extra battery's for it.Handles a slight breeze ok but not much more. Definitely recommend it.

5.0

By S. Hall

2017-08-16

Highly recommended!!

Long story short, if you are a neophyte like me as far as Drones, or RC in general; THE CONTROLS ARE SENSITIVE, even in 30% rates mode. Once you have the hang though, they work awesome. I've had my drone for over a week, ive flown it 10+ times now, and I can get it up, hovering, and can shoot it around my house, and outside pretty well. This thing handles very, very well once you have the hang of it. It's so much freaking fun to fly.
Load More
Your review is submitted successfully!
We will process your review within 1-5 business days.